For B2B companies that want to protect & optimize their margins.
The
secret

key

how to succeed in every pricing negotiation and finally get the prices you want.
📊
Would you like to increase your prices without worrying about losing your customers because of it?
💸
Would you like to earn more money with every deal and experience less pressure and more freedom in your everyday work?
💪
Wouldn't your sales job be way more fulfilling if you would be well prepared for every negotiation without investing hours and hours in research?
Imagine going into your next sales meeting knowing that you already have all the skills and know-how to make your pricing negotiations incredibly successful.

How would this change life for you and the rest of your sales team?

From seller to seller: There is no better feeling in life than exciting customers so much for a product and its true value that …

… they totally commit to it.
… that they pay the price you want – and are more than happy with it.

Just pretend all of your customers would feel that way about you as a business partner in the future. Would this maybe even strengthen your relationships?
The Pricing Gym is a power tool that will help you to reach this goal with every pricing negotiation and solve the typical issues B2B salespeople struggle with in their daily lives.
Dr. Björn Schuppar
Pricing Expert
The motivated but often helpless salesperson who would like to reduce work pressure and earn more money.
I'm sick of being mangled
by purchasers.
The committed but overwhelmed Head of Sales who wants to defend his margins.
I need to figure out how to support my sales reps in terms of negotiations.
The far-sighted but concerned CEO who wants to ensure a successful future for his company.
We have to achieve better margins to make ourselves independent of market fluctuations in the long term.
Some of this may
sound

familiar

to you:
Start with better
prices today!
Get instant access to the Pricing Gym and start training your negotiation muscles today.
At the end of the day, you maybe keep your customer, but you have lost another very painful proportion of your margin which sets you, your team members and your whole company under pressure. And while your customers are celebrating with champers and caviar you go home with empty hands again.
How to
change

this unfair situation?
I have to tell you something: Things don't have to be like that.

With the Pricing Gym you get a power tool, that will guide sellers the way through every pricing negotiation – but this time with a happy ending for you.
🤖
Find all important market information you need researched and provided by AI technology in one place.
🎓
Apart from that your team and you will benefit from trainings, digital coaching and templates which will help you to rock pricing negotiations from now on.
🏋️
It´s time to work out negotiation muscles and enter the next meeting with your customers stronger than ever.

Andreas Straub
Dräger, Vice President Sales and Marketing EMEA
With the worldwide Pricing Culture & Momentum program we improved our price index from +0.4% to +2.8% (+2.4%-pts.) on 800 M€ Sales.

Vincent Legros
Arkema Group, CEO Bostik
Medical & security technology
We recovered plus 44 Mio.$ EBITDA on 2,000 Mio.$ Sales with Price Increase Trainings & Pricing Clinics® across 3 regions and BUs.

Mike Olosky
Currently Chief Operating Officer at Simpson Strong-Tie Formerly Henkel Adhesive
Member of the Executive Committee
Changing the Pricing Culture with Schuppar Consulting resulted in +2.2%-pts. Margin improvement and volume growth on plan,

Malte Witt
Armacell, Vice President Sales and Marketing EMEA
"+4.5% better net-net prices in my region with Schuppar Pricing Trainings and Pricing Clinics® workshops.

Axel Bornefeld
Thomsit, Sales Director
A price increase agreed with our largest customers resulted in 669 k€ better margin annually including a small change in the given rebates.

Joris Merckx
BASF GBU Surface TreatmentPresident & CEO
More than 30 Million € EBITDA over 18 months (700 Million Sales). Schuppar Consulting enabled us to improve consistently our margin in a sustainable way.

Laurent Couvreur
BASF, Director Regional Segments Asia Pacific
SCORE training is part of my everyday life, as we are using the Global Sales Process for following the progress of our projects in APAC region. Thank you, Bjorn and Martin.

Dr. Norman Goldberg
tesa (Beiersdorf), CEO
With the worldwide Pricing Culture & Momentum program we improved our price index from +0.3% to +2.7% (+2.4%-pts.) on 800 M€ Sales.

Mauro Beccaro
BASF GBU Metal Pre-Treatment, President Americas
EBITDA went up by +1,2%-pts. on the 250 Mio.$ business thanks to the best pricing training program we ever had.

Dr. Ingo Lehrke
tesa Labtec. CEO
We achieved a price increase for our biggest customer of 4.3% = 359 k€ EBITDA. Best was the change in mindset. Understan-ding that a price increase is possible even if it seemed impossible at the beginning.

Peter Zwankhuizen
ACTEGA Coatings & Sealants ,Vice President Global Segment Head - Rigid Packaging
We reduced our rebate and bonus payment annually from 8.6% to 6.3%. The Negotiation Playbook helps building confidence. You know your limit-the bottom price. You under-stand that there is no reason to be afraid.

Tony Wolfbauer
BASF GBU Metal Pre-TreatmentGlobal KAM
We gain access more easily into large accounts at a higher level in the organi-zation. The average size of new customers went up from 135 k$ to 267 k$.

Jürgen Walda
Lohmann Tape, former CEO
With the global Value Pricing Culture program we improved our price index from +0.9% to +3.3% (+2.4%-pts.) on 320 M€ Sales. And best we also kept the business.

Regine Ernst
ESAB Welding, KAM Automotive
+4.5% better net-net prices in my BU with Schuppar Pricing Clinics® and Negotiation Playbook workshops. Also helped us to remain customer centric and service driven.

Fabian Elsasser
Witzenmann, Sales Director Automotive
Total benefit for my Automotive division of +823 k€ profit. Pricing Clinics® are an extremely powerful tool. We need to sustain our margins to be reliable in future.

Ralf Drews
Greif-Velox Maschinenfabrik GmbH, CEO
With the help of the Schuppar SCORE tools we won 2 major tenders, which grow our business by 12 M€. My organization switched from farming to hunting mode.

Johan Fransson
ESAB, Managing Director Europe
Before the SCORE Program we had a hit rate of only 8%. Now its up to 36% which means every 3rd quotation we win. The survivor rate (1st to 2nd meeting) doubled.

Volker Hahn
tesa scribos Global Sales & Marketing Director
Many thanks for executing the best training in my long career in Sales. I made the call with the prompter and immediately got a meeting with the MD worth 300 k€ value!

Natahlie Girol
ESAB Welding, KAM Automotive
I gained 8 large account leads for now and already closed one 1,200 k$ project. All SCORE modules were extremely helpful for my work with my accounts.

Nilesh Patel
BASF GBU Metal Pre-TreatmentVice President Strategic Accounts
Our top-line went up by 9% compared to previous year! SCORE methodology enabled my teams to close more than twice as much new customer deals.

Marji Smith
tesa, Director, Global Key Account Management Electronics
Love the confidence which the Schuppar training and pricing methods gave to my team. My people take much more care for the deal financials now.

Pascal Peroni
Bostik/ Arkema Group, Vice President Sales
"+1.9%-pts. Margin resulted in 646 k$ EBITDA improvement within 9 months. Best program I ever joined in my long career in Sales.

Edyta Portee
Account Manager Teslin w PPG Industries
+8.5% price increase agreed with large clients after a Pricing Clinic® resulted in 469 k€ better margin annually. We could recover the cost inflation.

Stephane De Bernes
European Sales Manager, Arkema
It was good get some new arguments to increase prices. Show the person that we are not willing to drop the price or other conditions.

Tino Steurich
Area Sales Manager, Arkema
The training was very useful. It helps us to focus on the main topics in negotiation. I particularly liked the role plays followed by useful feedback.

Martin Burki
Commercial Director, Arkema
Target achieved. My whole Crew will join this great training. It is amazing how much motivation it is creating among the teams.

Rodrigo Gomez
Business Manager, GF Automotive
One of the best sales trainings I enjoyed during my past ten years.

Asis Ray
CEO Chemetall India
The training was really good. It is amazing how much motivation it is creating among the teams.

Adam Lin
Sales Director Bostik
The training was pretty much on target. I particularly liked the role plays followed by useful feedback.

Matthew Walker
Manager-Key Accounts Safepack
Getting to know different ways of argumentation to increase prices in difficult times.

Dieter Verhoeven
Chief Purchasing Officer at PRYM Group
I liked the very practical and real-life approach and examples.

Jens Hummes
Regional Sales Director
The training was a good motivation to demonstrate value and I liked the best practices shown by the trainer.
🧐
We know first and serve you this information on a silver platter. You can export this in a compact fact sheet and present it fully convinced to your negotiating partners.
🤝
With the Pricing Gym you not only prepare data for arguments, you also can train your negotiating skills.
😁
A virtual personal trainer is at your side to train you on typical negotiation situations. In the coaching area you get access to numerous digital coaching sessions that will make you an even better seller.
The Pricing Gym is the must-have tool for all salespeople who want to be several steps ahead of their negotiating partners without investing hours and hours of time. The tool is a big recommendation to B2B companies that want to establish a sustainable pricing culture that fits with the needs of the organization.
The Pricing Gym is a
good

deal

for your company:
Who is the Pricing Gym
suitable

for

?
For all salespeople who want to enter pricing negotiations with confidence, composure and persuasiveness.
B2B businesses that need to hold their own against powerful customers and want to implement a sustainable pricing culture in the long term.
Sales teams who want to turn the tables and can no longer submit to the market power of their customers.
The most important
success

factors

for pricing negotiations – and how the Pricing Gym serves them:
Some time ago we made a study with buyers and sellers to find out what are the most important factors for success in negotiations. The result is very interesting:
51% of the participants think that preparation is the key factor to be successful in negotiations.
That´s why we focused on this spot when we developed the tool. When it comes to pricing you will be as fit as you never were before by using the Pricing Gym.
The tool will provide you the strongest and best arguments you can get to attract buyers to your side. The fact folder is an effective weapon that will make even the most savvy of buyers sweat.
On the second place 28% of participants voted for the person that is conducting the negotiation as the most important key factor.
To also back you up on this side we created a high-quality training and coaching center within the tool. Benefit from matchless training material and digital coaching sessions that get updated all the time and improve yourself to a top level seller.
Hi, my name is Björn. As a pricing expert with over 20 years of experience I am confronted with the struggles of sellers every day.

Which sounds like a luxury problem for outsiders in truth is a big pain in the ass for many sellers.

Salespeople that fail on selling products for the right prices very often feel lots of pressure because they are responsible for one of the most important KPIs of every company: The margins.

If companies are unable to protect their margins in the long term, this has a direct impact on the value chain. In this situation CEO's have two possibilities:
Sounds very dark, doesn't it? That's why I founded Schuppar Consulting.
Together with my team we worked out solutions that help companies to protect and optimize their margins.
One of them is the Pricing Gym which was created to be your daily companion in the course of preparing for negotiations.
Let's be honest: Most of the times the part who pays (your customer) is the part who determines the direction – especially when this part is a big player that has a lot of market power.
With the Pricing Gym you will be able to turn the tables because it will help you to start at a way better position upfront.
20 years of experience in coaching and training organizations
Guided 3,000 real negotiations with the Pricing Clinic® method
Held more than 250 keynote speeches
Trained over 10k people globally in pricing
70 publications, lectures, and a book about pricing excellence
More than 400 companies successfully use the Schuppar methods: BASF, Henkel, Electrolux, Saint Gobain
What customers think about Schuppar Consulting:
Arkema Group CEO at Bostik
"We recovered plus 44 Million € EBITDA on 2.000 Million € Sales across 3 regions and BUs."
Henkel Adhesive, Member of the Executive Committee
"Changing the Oricing Culture with Schuppar Consulting resulted in +2.2%-pts. Margin imprivement and volume growth on plan."
"Total benefit for my Automotive division of +823 k€ profil. The Trainings, the Pricing Clinics® and and the new Pricing Gym are extremely powerful tools."
"With the worldwide Pricing Culture & Momentum program with Schuppar we improved our price index from +0.3% to +2.7% (+2.4%-pts.) on 800 M€ Sales."
Trusted by first-class businesses at any size
This is how your future could look like:
Let´s pretend you have a very important negotiation with a big customer. In the past, you would probably have been driving yourself crazy for days by investing hours to find suitable arguments to put forward in the price negotiation. 
Now this is a thing of the past, because from today you are receiving support from a valuable helper: The Pricing Gym.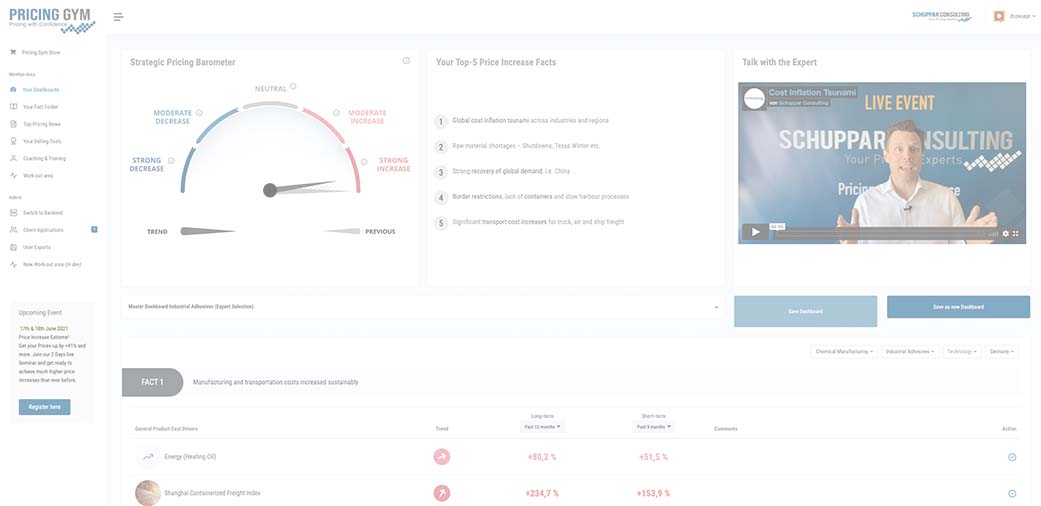 Prepare for a negotiation
To prepare for a negotiation you and your team members just have to login to the tool via laptop, smartphone or tablet. After a short setup you are ready to go and the tool shows lots of important values, data, facts and changes in your market.

It will be easy for you to find enough of mighty arguments that cannot get wiped away from your negotiation partners. 
To present the facts to the customers in black and white you just can export and print out a fact folder. Now that you don´t have to worry about arguments anymore you have enough time to train your negotiation skills.

For this just visit the coaching area. After working through some online lessons, you can switch to the training center, where you can deepen the things, you have learned. A virtual trainer is waiting for you to train you on some real negotiation situations.
On the negotiation day you step up with ease and self-confidence. Due to the good preparation, it will be easy for you to convince your counterpart of the planned price increase. The customer is signing the new contract and you and your team members couldn´t be happier.
Why you should focus on
optimizing
margins:
Pricing is the most important lever for the success of your company. Don´t get me wrong. Order volume and cost optimizations are significant too.
But according to a study by Oliver Wyman, carried out in the capital goods industry, a 1% price increase leads on average to a profit increase of 25%, while a reduction in fixed costs by 1% leads to only 10% more profit.
This example shows why it so important to focus on optimizing your margins constantly.
In addition: A sustainable pricing makes you more independent from market conditions and gives you the possibility to keep and improve the quality of your services – something that should be in high interest of your customers as well.
With our tool your life will be easier. You, your team and your company will earn more money, feel less pressure & enjoy more freedom at the end of the day. The Pricing Gym enables you to reach these goals.
But Björn, why can't I just research all of this myself?
Yes, of course you could do this, but reach such a high-quality data level like the Pricing Gym does for you I guess you need to quit your job and do market research in fulltime.
With the Pricing Gym you are ready to go with lots of strong arguments after 5 minutes of setup. Some of our customers are using the tool just 30 minutes per month and are well prepared for every negotiation.
Please keep in mind that you save so much time. Instead of investing overtime into research get out of work sooner. Or use the newly gained time for more important things like generating new customers or improving your skills as a seller.
For the latter, the coaching and training area is your number one choice. Of course, you also could book external coaching or training programs but to get good quality here, in most cases you have to invest thousands of euros for just one participant – and I know what I am talking about because we sell such things by our own. 
With the
Pricing

Gym

you get:
For an investment of only:
Pricing negotiations are not only about personal meetings. Mostly there is also a very fluent email communication which has a huge impact on the result. Because we don´t want to leave you alone with this, we have prepared lots of templates for your written communication. These are field tested and written hand in hand together by sales and buying experts.
Become
the

strongest

– in B2B price negotiations
Make a decision now: Would you like to continue as before and make your pricing dependent on the mood and goodwill of your customers? Or would you rather take over the wheel and get the full control over your pricing?
Life is too short for bad comprises. Don´t let your customers and competitors put you under pressure any longer. Do the right thing for your company but also for yourself:
Get independent from circumstances and gain safety and confidence when it comes to pricing negotiations.
The Pricing Gym is the best all-in-one tool you and your team can get if you want to prepare for pricing negotiations the best possible way without investing tons of time.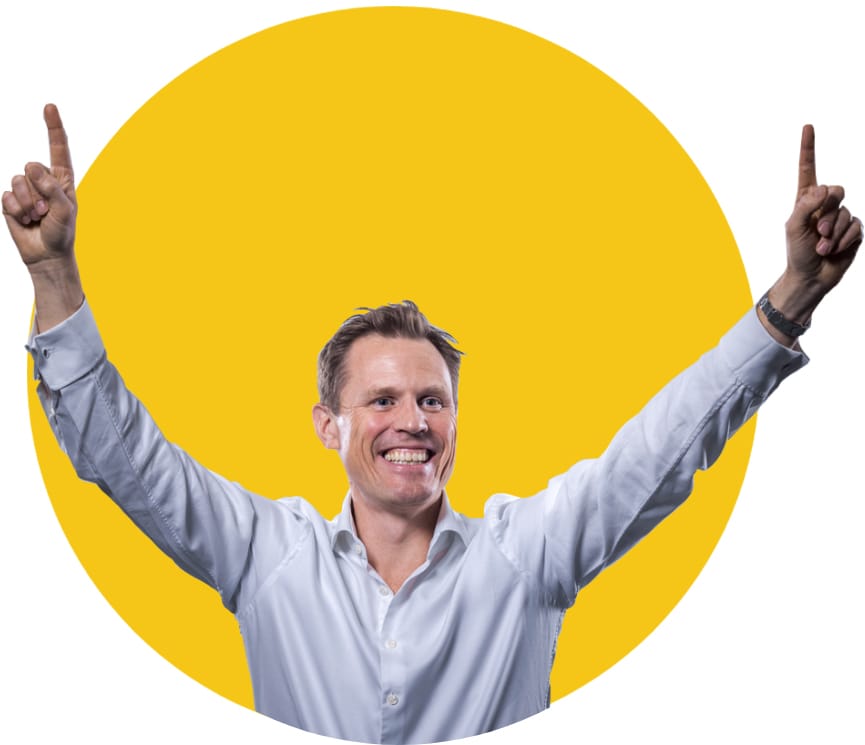 Make your
price

negotiations

easy

– and save your 10% discount now
Sign up for the Pricing Gym, achieve better margins & earn more money immediately.
There is just one small catch: As we want to improve the tool continuously, we would be very thankful for your feedback.
To create a win-win-situation here we would like to offer you a 10% discount to get some valuable feedback from you and your team members in return. Still sounds like a perfect match? Then apply for the Pricing Gym now and succeed in future pricing negotiations.
For an investment of only: